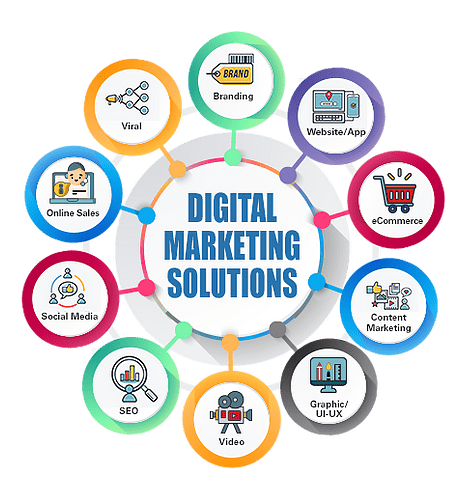 The way we interact and receive information has evolved as a result of recent technological advancements and corporate adaptations. And now that cell phones are more widely available and more affordable, the majority of people acquire their information directly from the internet.
Businesses are continuously looking for innovative ways to use technology to maximize their interactions with customers. In order to achieve this, they have increased their digital marketing efforts and created extremely specialized content that is intended to draw in and engage their target audience.
It is obvious that a profession in digital marketing is here to stay as the economy becomes progressively more digital. Scroll down to read more about this subject and discover why studying free digital marketing could be beneficial.
Growing Demand for Digital Marketers 
There is an increasing need for skilled experts in the field of digital marketing to promote their services as more and more enterprises and corporations see the value of digitising their operations.
One of the largest advertising divisions, Internet advertising has already surpassed TV. Additionally, according to the majority of CFOs, over 75% of their investment over the next few years will go toward digital marketing. Google and other leading international corporations are aggressively searching for younger digital marketers who can help them spread the word about new technologies.
Simple to Begin a Career
One of the most inclusive aspects of digital marketing is that anyone from any background may enter the sector, provided they have the necessary training, credentials, and experience.
To be a successful digital marketer, you don't need a three- or four-year degree in a specific subject. No matter what you previously studied, you can earn a digital marketing certification after earning your bachelor's degree and develop a strong portfolio of varied projects.
It is simple to start applying for freelancing tasks and internships, even in terms of tools and working methods. As a beginning digital marketer, all you need is a laptop, a reliable internet connection, and sufficient lighting to study and eventually practise digital marketing.
You develop entrepreneurial skills through digital marketing
A skilled digital marketer and a dynamic entrepreneur share many of the same skills, so there is no doubt about that.
You may be confident that you will master certain behavioural skills when you study digital marketing at a recognised college.
Digital marketers must be proactive self-starters, have strong communication skills, be adaptable to market changes, and thrive at marketing the brand they are working for. These characteristics set entrepreneurs apart from their rivals.
Additionally, in order to design tactics and employ original techniques to motivate consumers to buy their products, digital marketers need to establish solid working connections with their clients. Again, this naturally endows individuals with leadership skills that aid them in serving as a brand's face.
Jobs in digital marketing are numerous and well-liked
Although it is a subset of marketing, digital marketing also has additional specialisations, all of which can be entertaining and engaging. You can choose from a variety of specialities by enrolling in a course on digital marketing, including:
Social Media Marketing : Utilizing social media sites like Instagram, Facebook, and Twitter to identify and connect with prospective consumers
Email Marketing : Creating connections with customers through increasing brand awareness through emails that contain content and information.
Offline Marketing : Concentrating on more traditional media, such as print, radio, billboards, and advertisements.
Influencer Marketing : Using established, well-respected professionals in your sector who are active on social media to recommend and advertise your business.
By choosing clients and projects abroad, you can work remotely on digital marketing tasks even more. The types of clients you can deal with are actually endless as long as you have the necessary professional skills in digital marketing!
Good Salary Package 
These salary packages are only expected to grow due to the rising demand for Digital Marketers and the increased spending by businesses on them. The important thing to keep in mind is that these compensation packages are not intended for inexperienced or amateur digital marketers, but rather for those who have taken the time to formally study the subject of digital marketing in order to ensure that they are knowledgeable about all aspects of it.
Pandemic-Proof Job
The constant demand for digital marketing across all industries is what makes it a "recession-proof" profession. Digital Marketers will always be required as long as the workforce uses the internet and laptops for commercial purposes.
Additionally, we have seen that it is pandemic-proof throughout the past year. The need for digital marketers increased as companies scurried to shift their operations online, find new markets, and develop fresh strategies for marketing their goods.
When you study digital marketing, you can rest assured that it's going to be a smart investment and definitely will not be a sunk cost!
You get business insights skills.
The process of developing an advertising campaign, launching it, and then moving on to the next is not how digital marketing works. Analyzing the results of your efforts is a crucial component of successful digital marketing. And doing this well is what makes a professional in the field stand out from an amateur.
Gaining insights from the data pertaining to your campaigns is another skill that you will be properly trained in with Digital Marketing certificates. To comprehend the following, you will also need to combine sociology, psychology, and economics:
How to comprehend the needs of customers
How to persuade someone to do something
How client behaviour may benefit your business