App Development
The number of businesses that build Android apps every year is highly increasing. To offer end users a native mobile experience on smartphones, mobile apps play the most significant part.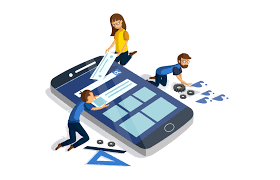 Is Mobile App Development Worth It?
Mobile app development is worth learning because of the many benefits that come with it. Mobile applications are used all over the world for various activities such as communication, entertainment, socialization, Education, Shopping, Travel, Music, sports, finance, and more.
Mobile applications are great products that bring in millions in revenues for many companies. In 2020, global revenue from mobile apps increased to over 318 billion U.S. dollars. By 2025, these revenues are expected to reach 613 billion U.S. dollars.
These estimations show how huge the mobile industry is and it continues to grow. Being part of this growth is certainly worth it.
Is Flutter developer a good career?
As per Statista's report, approximately 42% of software developers worldwide used Flutter in 2021. The number is only set to increase, thanks to this SDK having extraordinary opportunities in cross-platform development. Thus, if you're deciding to hire a Flutter developer, you're definitely on the right track.
Android App Development Course
Flutter App Development Course
Android App Development Course
There are over 2.59 million apps on Google Play Store today. Android apps are dominating the market with most of the brands and startups accelerating their business growth with intuitive applications.
Android is here to stay and opens door to new career opportunities. Whether you are a student, graduate, job seeker, business owner, or anyone who wants to build a great career, the time to learn Android App Development is now.
LOCAS INSTITUTE, India's fastest-growing and learning-focused IT institute, brings you the most comprehensive, practical-oriented, and digital classroom-based Android Training in Ludhiana. You don't need to have any prior knowledge of Android or programming to learn this skill as we cover everything from zero level.
The complete Android Development Course in Ludhiana is led by an expert Android Developer having a decade of experience in the field. This is an advanced course with practice on all the essential concepts. It also includes work on real Android projects for practical exposure and experience.
By the end of the course, you will be able to build enticing Android applications on your own. We also provide Android certification and placement assistance to help you explore high-paying and promising career opportunities.
For any queries, book 1 day of free demo classes of our Android App Development Course in Ludhiana.
Flutter App Development Course
Ready to Enroll.. Get a Call back..
What is covered in a App development course?
Why LOCAS is The Best App Development Training Institute in Ludhiana?
How It
Work?
A small river named Duden flows by their place and supplies it with the necessary regelialia. It is a paradise
Ready to Learn App Development. Get a Call back..
App
ScreenShots
A small river named Duden flows by their place and supplies it with the necessary regelialia. It is a paradise
Students Love Our App Development Training in Ludhiana
Meet Our
Team
A small river named Duden flows by their place and supplies it with the necessary regelialia. It is a paradise
Frequently Asked
Questions
A small river named Duden flows by their place and supplies it with the necessary regelialia. It is a paradise